General Features
Schematic Diagram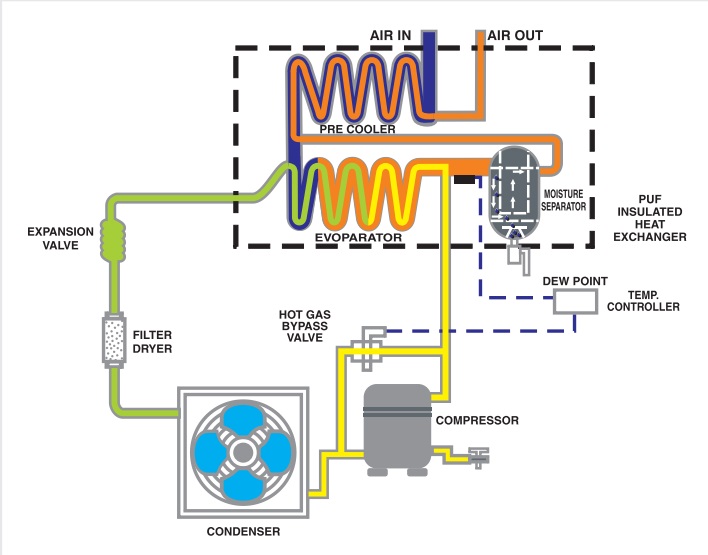 Technical Specifications
BASE MODEL
MODEL VARIANCE
NOMINAL CAPACITY
ELECTRICAL CONNECTION
AIR CONNECTION
RATE POWER KW
OVERALL DIMENSION
NET WEIGHT
E
F
CFM
m3/hr
220V/1P/50HZ
415V/3P/50HZ
IN/OUT
AIR COOLED
WATER COOLED
mm
Kg.
2KD 004

40

68

½"BSP

0.29

360x425x550

47

2KD 006

60

102

½"BSP

0.46

47

2KD 008

80

136

1"BSP

0.89

550x450x685

80

2KD 010

100

170

1"BSP

0.89

500x600x685

85

2KD 015

150

255

1"BSP

1.67

500x600x685

85

2KD 020

200

340

1½"BSP

1.67

700x700x830

120

2KD 025

250

425

1½"BSP

1.73

700x700x830

135

2KD 030

300

510

1½"BSP

1.73

700x700x830

135

2KD 040

400

680

2"BSP

2.2

900x900x1230

170

2KD 050

500

850

2"BSP

2.2

900x900x1230

180

2KD 060

600

1020

2½"BSP

4.5

750x100x1400

250

2KD 075

750

1275

3" NB FLG

4.7

4.2

900x1300x1725

350

2KD 100

1000

1700

4" NB FLG

6.0

5.0

900x1300x1725

400

2KD 125

1250

2125

4" NB FLG

7.5

5.0

900x1300x1725

425

2KD 150

1500

2550

5" NB FLG

8.8

6.3

1300x1800x1650

650

2KD 200

2000

3400

6" NB FLG

12.2

9.5

1300x1800x1900

800

2KD 250

2500

4250

6" NB FLG

13.9

11.0

1300x1800x1900

850
* Product Design and specifications are subject to change due to constant upgradation.
Specification
Product Range 20-2500 (E - Air cooled)
Product Range 750-2500 cfm (F - Water cooled)
Working pressure range 7-16Kg/cm (g)
Max.Inlet temperature 45°C
Outlet temperature range 30-35°C
Pressure Dew point at outlet 2-4°C
CC - COPPER COIL SERIES
Tube in tube copper heat exchanger.
Centrifugal moisture separator inbuilted.
Low pressure drop.
Easy access to key components for service.