General Features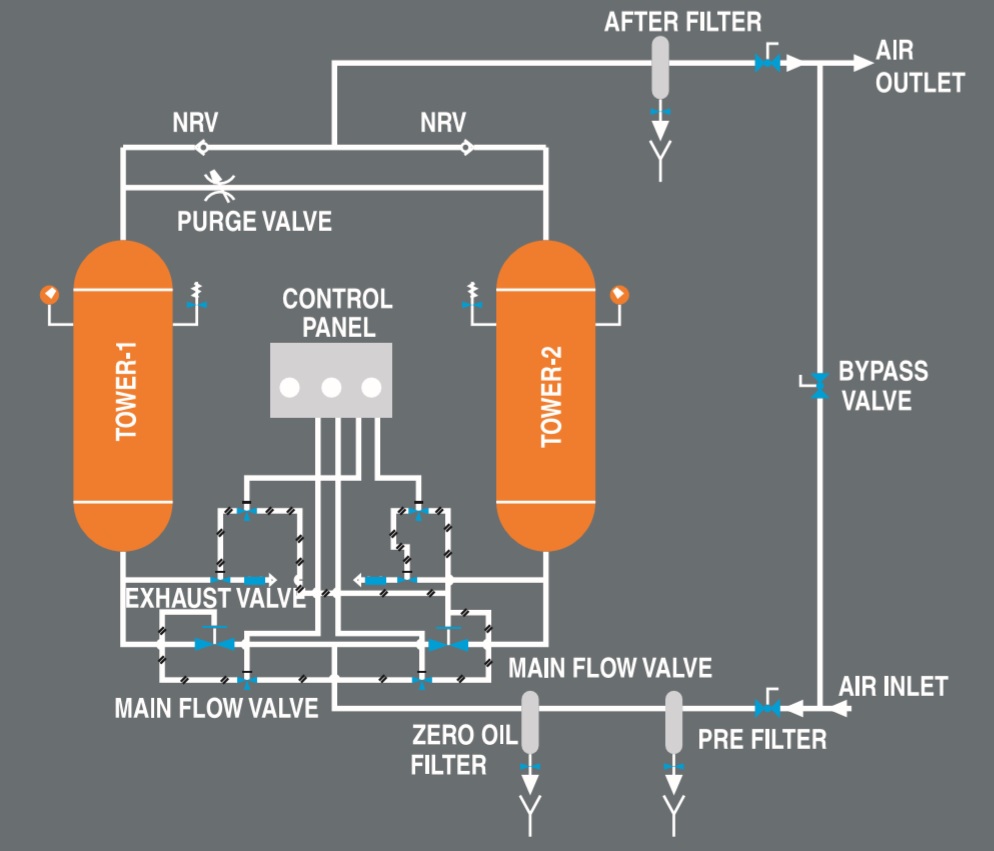 Optional
Fill and drain ports:
Separate fill and drain ports for ease of desiccant replacement.
Heavy duty purge exhaust mufflers for quite operation.
Non-lubricated inlet control valves.
Purge flow valve for adjusting purge rate.
Pressure relief valves on both towers.
Stainless steel support screens and air diffusers:
Easy removable for cleaning.
Filters out gross contaminants protect valves.
Prevents channeling.
Structural Steel Frame with complete floor stand:
Easy installation.
Dryer is completely assembled, piped and wired before shipping.
Optional factory mounting of pre and after filters.
Shipped with full charge of desiccant. Choice between alumina or molecular sieve.
Only hookup utilities need to operate.
Lifting lugs for easy handling.
Filters
Pre Filter:
Every dryer should be equipped with pre-filter to protect the desiccant from free water contamination, dust, scales, etc., from compressed air supply. This assures top efficiency and longer desiccant life.
Zero Oil Filter:
Oil from the compressor's crank case will be passed on to the line with the compressed air. This will severely effect the life of the desiccant. To enhance, oil particles are removed in this filter upto 1 micron rating.
After filter:
This is provided after the dryer to remove the desiccant dust carried over to the equipment.
Technical Specification
MODEL
Air Flow
Electrical Connection
Inlet / Outlet
Dimensions (mm)
Dessicant
Weight
SCFM
Nm3 / hr
V
Ph
Hz
BSP
L
W
H
Qty/tower
Kg
HLD-030
300
510
230
1
50
2" NB
1400
1000
2400
110
350
HLD-040
400
680
230
1
50
3" NB
1400
1200
2480
140
400
HLD-050
500
850
230
1
50
3" NB
1600
1300
2230
180
500
HLD-060
600
1020
230
1
50
3" NB
1600
1300
2450
215
650
HLD-075
750
1275
230
1
50
4" NB
2000
1300
2200
260
800
HLD-100
1000
1700
230
1
50
4" NB
2000
1300
2500
360
950
HLD-125
1250
2125
230
1
50
6" NB
2000
1300
2750
450
1150
HLD-150
1500
2550
230
1
50
6" NB
2200
1400
2200
520
1400
HLD-200
2000
3400
230
1
50
6" NB
2200
1400
2860
720
1750